Our eosinophilosophy
eos counts in
NASAL POLyps
Nasal polyps are benign, inflammatory masses that form in the nasal mucosa and paranasal sinuses as a result of chronic inflammation in the nasal passages.1-3 They are observed in a subtype of chronic rhinosinusitis, which is a chronic inflammatory condition of the nose, paranasal sinus, and upper airways, defined as having documented inflammation and ≥2 of the following symptoms for ≥12 weeks1,4:
Nasal obstruction/congestion
Nasal discharge (nasal drip)
Facial pain/pressure/fullness
Reduction or loss of smell
The estimated US prevalence of nasal polyps is approximately 4%, with a higher occurrence in males.5,6

Eosinophils play an important role in up to 90% of nasal polyp cases in the US and Europe2,3,6,7
Eosinophils and type 2 inflammation in the pathogenesis of nasal polyps8-10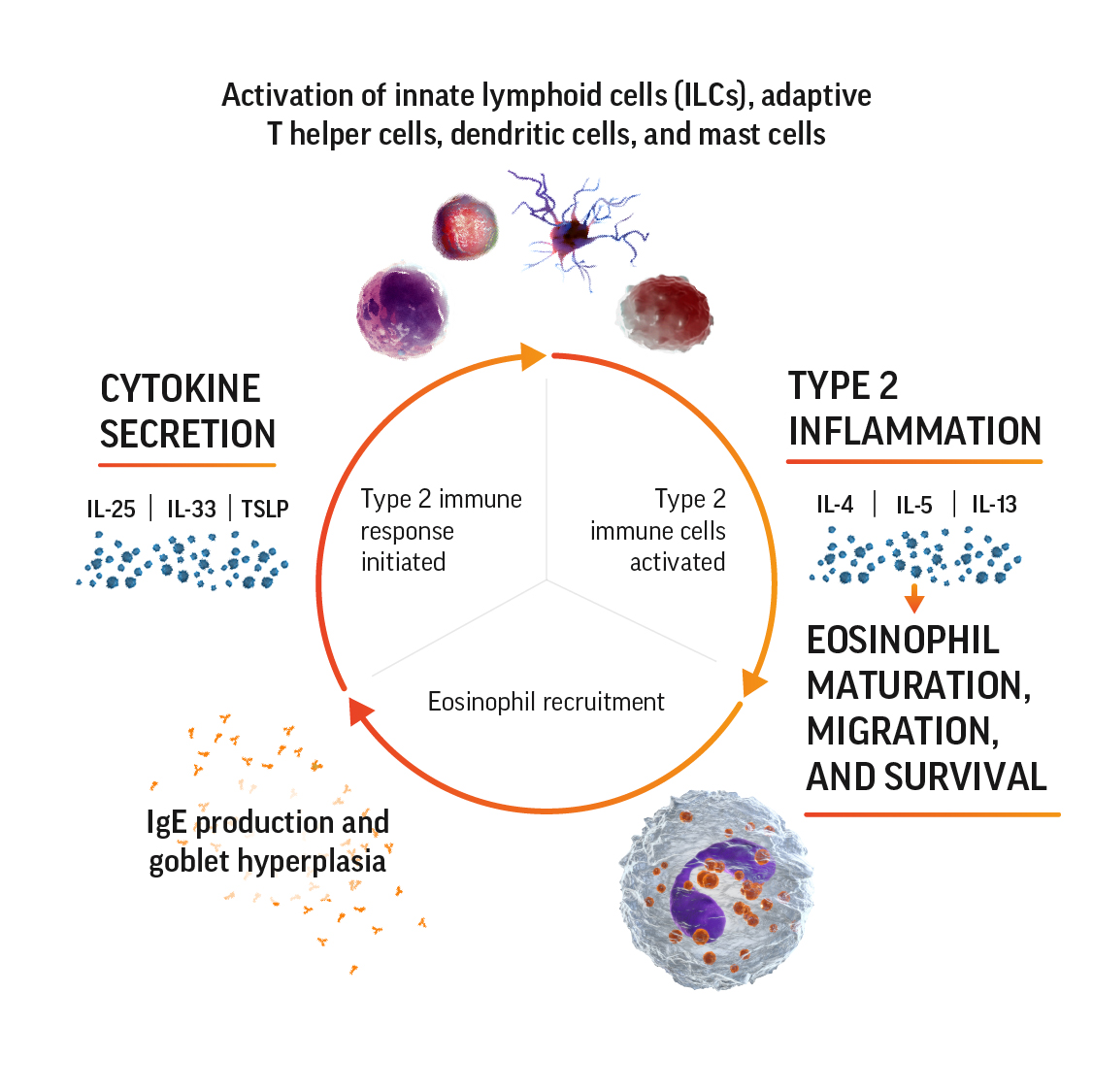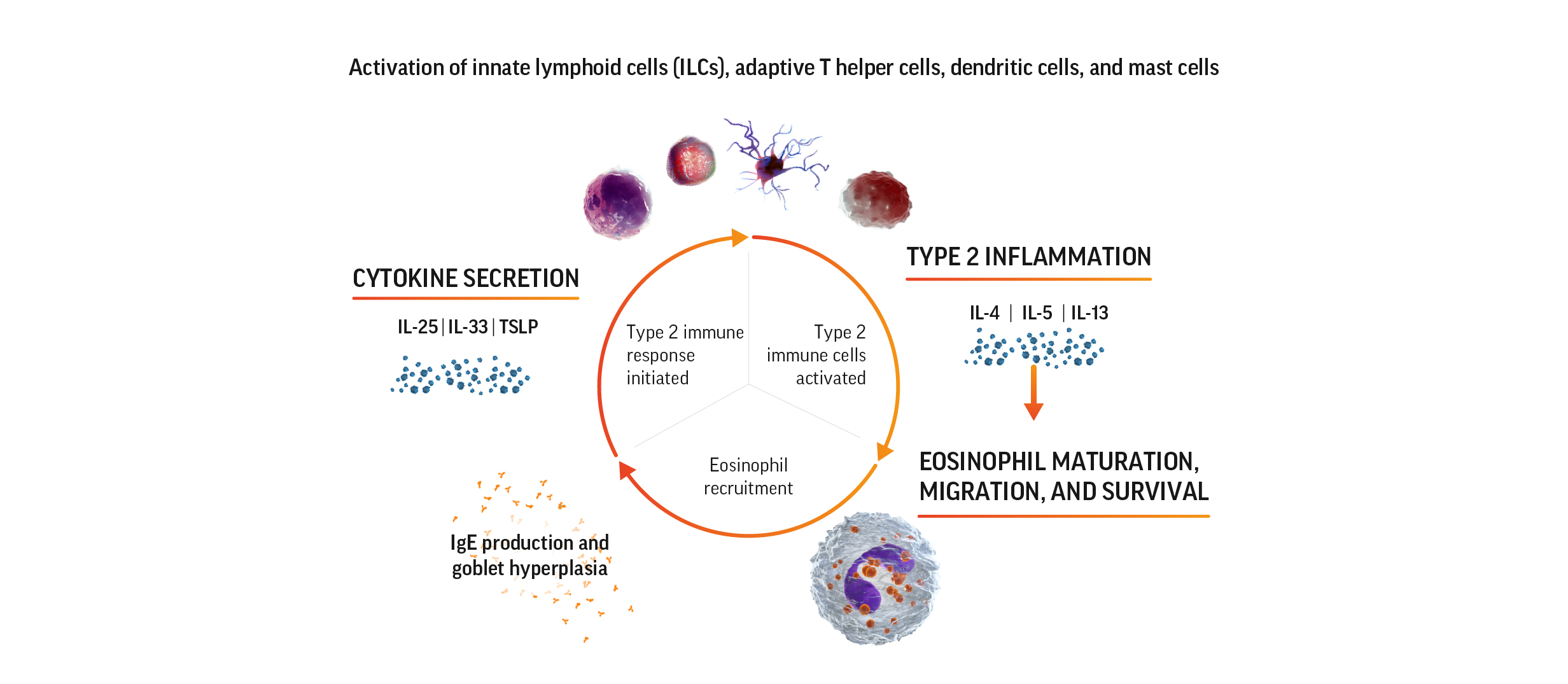 IgE=immunoglobulin E; IL=interleukin; TSLP=thymic stromal lymphopoietin.
Elevated eosinophils in the tissue and blood indicate eosinophil involvement in nasal polyps 11,12
Other indicators that suggest eosinophil involvement in nasal polyps include11,12:

Aspirin-exacerbated
respiratory disease


Increased oral steroid use

Eosinophils contribute to nasal polyp recurrence
Several studies have found that patients with higher tissue eosinophils have higher recurrence rates of nasal polyps than patients with lower counts.2,7


These numbers are based on a retrospective study of 42 patients who had nasal polyp surgery. Elevated eosinophil counts were considered when polyp tissue at x400 magnification had ≥4 eosinophils/1000 µm2, and recurrence rate in this group (n=22) was compared to the recurrence rate in a group with ≤3 eosinophils/1000 µm(n=20).2
Higher recurrence rates with higher eosinophil counts7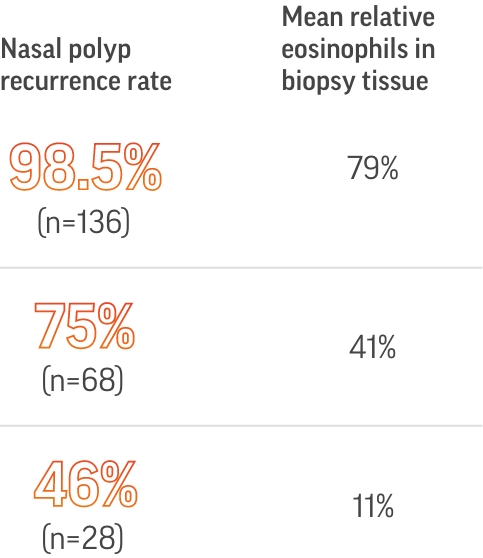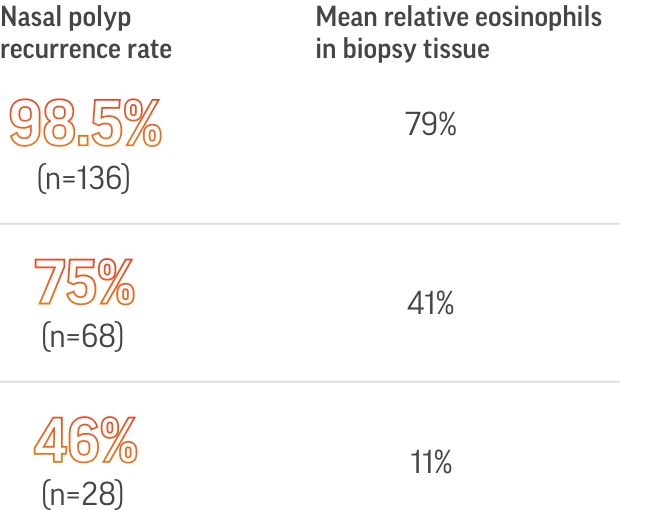 Based on a retrospective analysis of nasal polyp biopsy tissue from 366 patients in China who had nasal polyp surgery.
Explore why EOS counts in different disease states
References:
Hopkins C. Chronic Rhinosinusitis with Nasal Polyps. N Engl J Med. 2019;381(1):55-63.
Tosun F, Arslan HH, Karslioglu Y, Deveci MS, Durmaz A. Relationship between postoperative recurrence rate and eosinophil density of nasal polyps. Ann Otol Rhinol Laryngol. 2010;119(7):455-459.
Stoop AE, van der Heijden HA, Biewenga J, van der Baan S. Eosinophils in nasal polyps and nasal mucosa: an immunohistochemical study. J Allergy Clin Immunol. 1993;91(2):616-622.
Hedman J, Kaprio J, Poussa T, Nieminen MM. Prevalence of asthma, aspirin intolerance, nasal polyposis and chronic obstructive pulmonary disease in a population-based study. Int J Epidemiol. 1999;28(4):717-722.
Newton JR, Ah-See KW. A review of nasal polyposis. Ther Clin Risk Manag. 2008;4(2):507-512.
Fujieda S, Imoto Y, Kato Y, et al. Eosinophilic chronic rhinosinusitis. Allergol Int. 2019;68(4):403-412.
Lou H, Meng Y, Piao Y, et al. Cellular phenotyping of chronic rhinosinusitis with nasal polyps. Rhinology. 2016;54(2):150-159.
Schleimer RP. Immunopathogenesis of chronic rhinosinusitis and nasal polyposis. Annu Rev Pathol. 2017;12:331-357.
Naclerio R, Baroody F, Bachert C, et al. Clinical research needs for the management of chronic rhinosinusitis with nasal polyps in the new era of biologics: A National Institute of Allergy and Infectious Diseases Workshop. J Allergy Clin Immunol Pract. 2020;8(5):1532-1549.e1.
Kim J, Naclerio R. Therapeutic potential of dupilumab in the treatment of chronic rhinosinusitis with nasal polyps: Evidence to date. Ther Clin Risk Manag. 2020;16:31-37.
Bachert C, Zhang N, Cavaliere C, Weiping W, Gevaert E, Krysko O. Biologics for chronic rhinosinusitis with nasal polyps. J Allergy Clin Immunol. 2020;145(3):725-739.
Sun C, Ouyang H, Luo R. Distinct characteristics of nasal polyps with and without eosinophilia. Braz J Otorhinolarygol. 2017:83(1):66-72.