Our eosinophilosophy
eos counts in
EOSINOPHILIC GRANULOMATOSIS
WITH POLYANGIITIS
Eosinophilic granulomatosis with polyangiitis (EGPA), formerly known as Churg-Strauss syndrome, is a disorder classified as a small-vessel vasculitis, and is associated with eosinophilia and asthma. EGPA is characterized by eosinophil-rich inflammation and necrotizing granulomatous inflammation that often affects the respiratory tract, and necrotizing vasculitis that often affects small- to medium-sized blood vessels.1-3 Effects of the inflammation can lead to clinical manifestations that can vary across patients.3,4
EGPA is a rare disorder. Estimated prevalence of EGPA is 5000 patients in the US.5,6
EGPA is a 3-phase disorder4,7
Not all patients experience all phases. Phases do not have to follow one another and may overlap.

Prodromal phase:
Asthma, typically adult onset, rhinosinusitis, and nasal polyposis. Asthma is the main manifestation and it may precede other manifestations by many years

Eosinophilic phase:
Elevated eosinophils in the blood and/or tissue

Vasculitic phase:
Inflammation of the blood vessels that can reduce blood flow to organs

Eosinophilic inflammation is a key feature in EGPA
Activated eosinophils have proinflammatory effects on tissue they have infiltrated through the release of lipid mediators and cytotoxic granule proteins. These proinflammatory effects lead to tissue damage. In the eosinophilic phase, the lungs, heart, and gastrointestinal system are often affected. Eosinophils also infiltrate the blood vessels during the vasculitic phase. Organs affected during this phase depend on which blood vessels are affected.7
Eosinophilia in EGPA pathogenesis7-9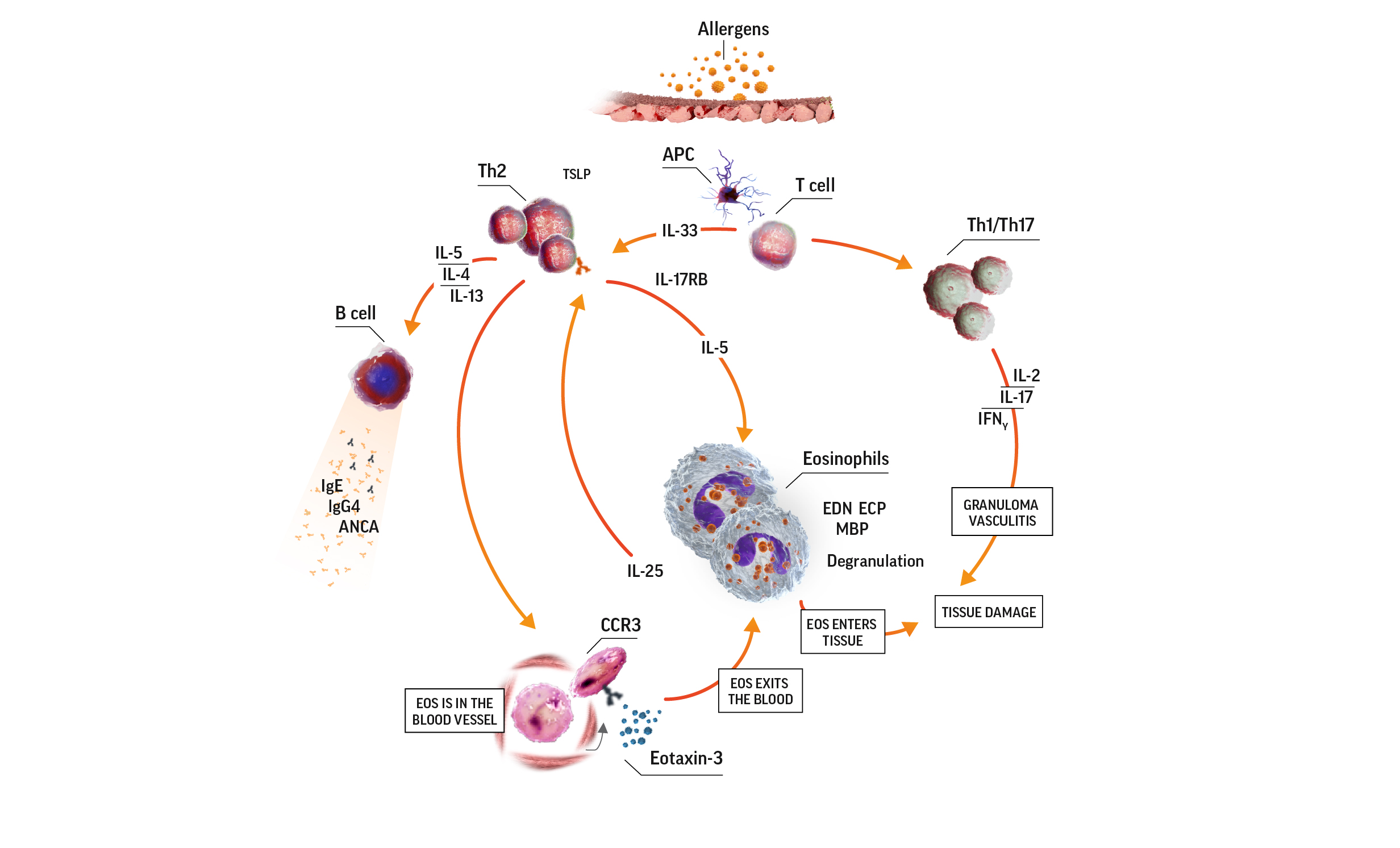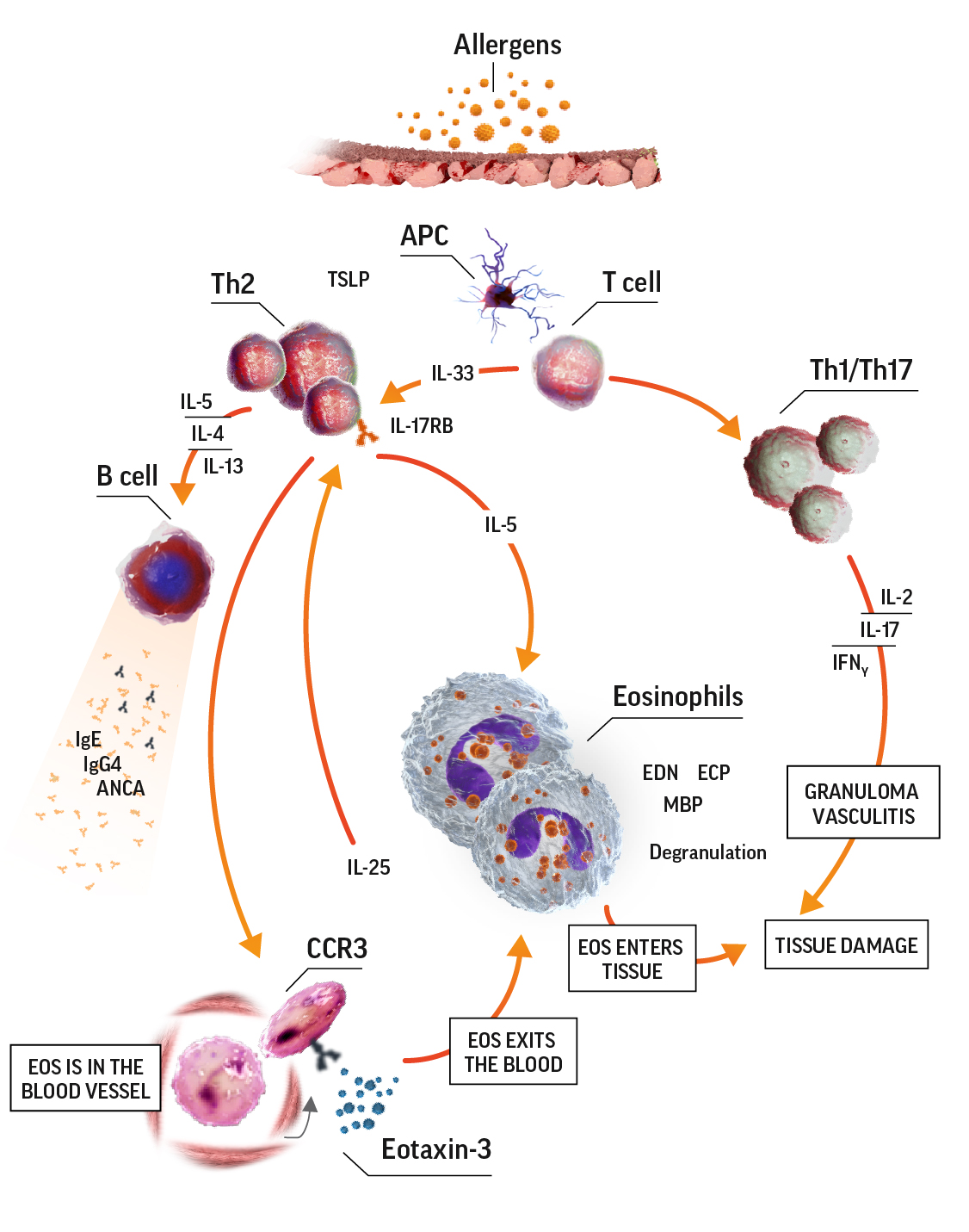 ANCA=antineutrophil cytoplasmic antibody; APC=antigen-presenting cell; CCR3=C-C motif chemokine receptor 3; ECP=eosinophil cationic protein; EDN=eosinophil-derived neurotoxin; IFNɣ=interferon gamma; IgE=immunoglobulin E; IgG=immunoglobulin G; IL=interleukin; IL-17RB=interleukin 17 receptor B; MBP=major basic protein; TCR=T-cell receptor; Th=T helper; Th2=T helper cell type 2.
Clinical manifestations and symptoms can vary across patients and depend on which organs are targeted4,10,11:








EOS counts in EGPA diagnosis

An eosinophil count that is >10% of a white blood cell count can help identify patients with EGPA.3
In addition to blood eosinophil counts, the American College of Rheumatology (ACR) includes additional criteria to aid in classifying EGPA. Presence of ≥4 of the below criteria yields a sensitivity of 85% and a specificity of 99.7% for EGPA3:
Eosinophilia: >10% eosinophils in peripheral white blood cell differential count
Extravascular infiltration of eosinophils
Asthma
Mononeuropathy or polyneuropathy
Paranasal sinusitis abnormalities
Pulmonary infiltrates (may be transient)
The ACR criteria is for classification of patients diagnosed with systemic vasculitis.
Laboratory and imaging tests12
Tests are based on patient presentation
ANCA detection12,13
ANCA is observed in approximately

40% of patients

with EGPA
ANCA negativity does not rule out EGPA diagnosis
Biopsy12,13
Biopsy is considered the gold standard for diagnosis; however, many patients are diagnosed on a clinical basis
Biopsy sites include skin, nerve, muscle, endomyocardium, kidney, esophagus, stomach, and/or intestines
A biopsy that shows a small or medium vessel vasculitis and eosinophil infiltration support an EGPA diagnosis when other clinical manifestations of EGPA are present
EGPA characteristics that differ from HES include1,7,14:
Asthma and nasal polyps
Vasculitic complications
ANCA-positivity (in

~40% of patients

)
ANCA-positivity, along with other factors, can aid in differential diagnosis of HES or EGPA.14
Could it be another necrotizing vasculitis?
Blood eosinophilia and asthma may help differentiate EGPA from other small- to medium-vessel necrotizing vasculitides.1,7
Explore why EOS counts in different disease states